August was a very happening month for me. Unfortunately the "no-travel August" I was looking forward to in my last monthly update in July did not materialize and I am typing this on a minibus speeding through the Thai countryside. There could be worse business trips though, so I won't complain. Once again I was proven to be horrible at picking stocks, but came a lot closer to my target allocation.

| | | | |
| --- | --- | --- | --- |
| Total portfolio value | SGD | EUR | USD |
| | 32,972 | 19,983 | 26,377 |
I finally paid a gigantonormous insurance bill (SGD 6,100) to cover my health insurance for the next 12 months. Being a hypochondriac sure isn't cheap!
Two notable things happened to my investments in August:
1)    I was once again proven to be terrible at picking stocks making me the best example of why you should always limit the share of picked stocks in the portfolio
Marrone Bio reported disappointing results and the stock lost half of its value overnight. My 200 shares bought for USD 3,127 are now only worth a mere USD 1,190. I am quite familiar with the industry and was sure that Marrone Bio Innovations was a good investment when I bought the shares.
Now the only thing I can say with certainty is that I have to limit picked stocks to less than 10% of my portfolio and continue to invest in low cost bond and stock index funds.
2)    I came a lot closer to my desired stock allocation
I sold of my positions in Evonik as well as my stock of two Chinese banks (ICBC and Bank of China). The latter made me quite a bit of money in dividends and price appreciation but selling them in favor of Vanguard's low cost index fund was nevertheless a good idea.

As you can see above my portfolio allocation is looking quite good at the moment with picked stocks at a manageable 7%.
Portfolio performance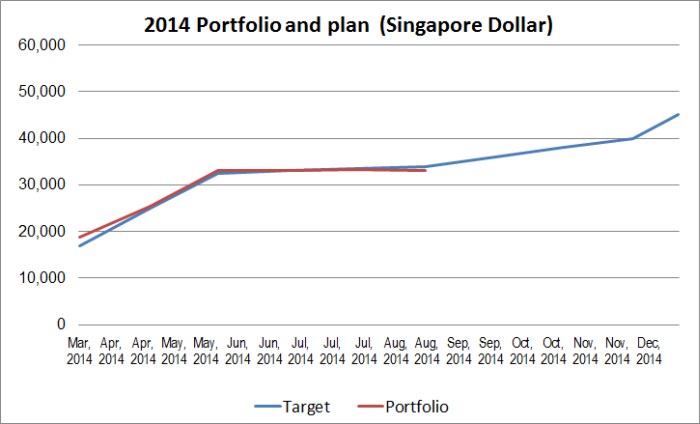 Nothing much exciting happened here – performance is more or less as budgeted. I have decided to increase my cash holding in the next few months so meeting the portfolio growth goals will  be challenging.
Main reason for increasing my cash holdings is that I have been in my current job for 3 years and might be posted to another country early next year which might mean additional expenses for which I would need to create a buffer.
Saving money instead of buying useless stuff will be key, bring it on September!