A lot of things happened in August. I traveled to Latvia, lost 800 Euros and then received a surprising windfall at the end of the month…
About Latvia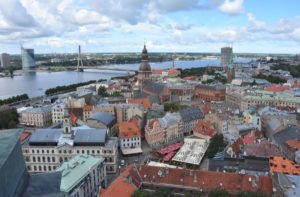 The old town of Latvia's beautiful capital: Riga
Latvia is a country with a lot of natural beauty. Beautiful country roads, little villages, full of large birds (such as groups of majestic storks) and markets full of ripe berries, fresh seafood and the like. Having said all that: after having been to 36 countries before Latvia I have never met so many unfriendly people in one trip.
Maybe it was just bad luck, but almost everyone I encountered was tremendously unfriendly. I appreciate the way people in Scandinavia respect people's boundaries and privacy and I really enjoyed Finland or Sweden very much for that matter. In Latvia it seemed more like people were making an effort to be rude.
Needless to say, judging a country by a visit of just a week is silly, so I will chalk it up to bad luck.  A country that beautiful must have some nice people in it. Hopefully I will find them another time.
Blunders and a windfall
It is deeply embarrassing to admit, but I managed to lose my wallet with EUR 800 on the way to Changi airport. Later in the month I received a windfall of SGD 7,500, so I had both good and bad luck this time.
Portfolio performance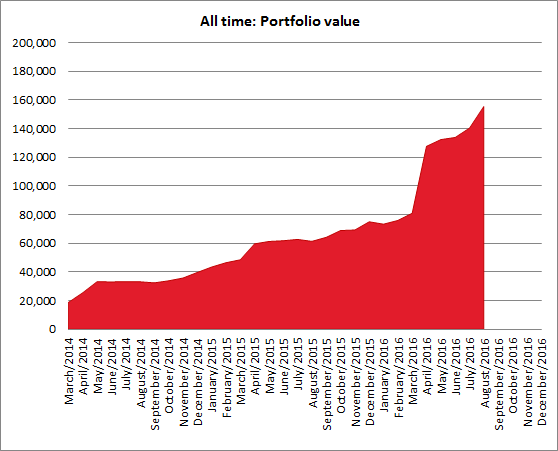 In August my portfolio increased by SGD 15,086 to SGD 155,377 (=USD 104,686 / EUR 102,206). The gain was made up of fresh investments of SGD 9,921 and capital gains of SGD 5,165.
Investments year to date vs. plan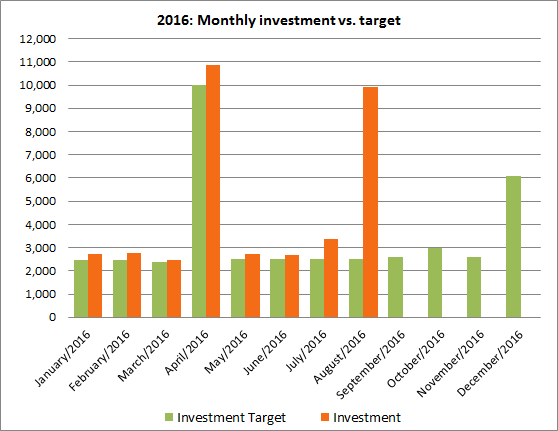 As I was lucky to receive a windfall I had no exceeding my target and I invested SGD 9,921 instead of the planned SGD 2,500.
Dividends received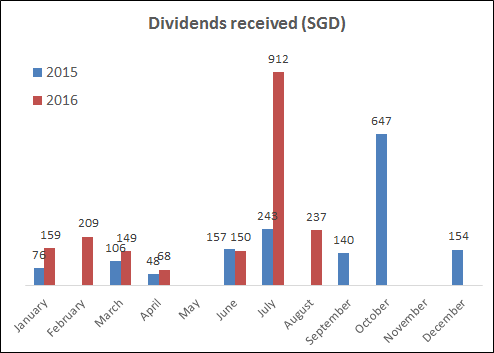 In August I received SGD 237 (USD 174) in tax free dividends.
Outlook
These days it seems my portfolio is growing faster than expected. It gives me hope that I will be eventually able to semi-retire or go for a long sabbatical in less than 10 years. Wouldn't that be nice?