What happened? October just flew past in high speed. A trip to Europe for holiday and visiting friends and family and some work travelling and stress in the office made for a very interesting and fast paced month.
Unfortunately I lost around SGD 420 by missing a flight. I took 39 flights so far this year and was never late for any of them, until I read my itinerary wrong and reached the airport after the plane had departed.
Portfolio performance
Worth of my portfolio increased by SGD 2,114 to SGD 33,829, which is largely due to re-investing of dividends received and regular investment into index funds.
Dividends received
In October I received SGD 223 in dividends from my Vanguard index funds which I of course re-invested:
ETF
Location
Bloomberg ticker
Dividends received in October
HKD
SGD
Vanguard FTSE Asia Ex Japan Index ETF
Hong Kong
2805:HK
600
100
Vanguard FTSE Asia ex Japan High Dividend Yield Index ETF
Hong Kong
3085:HK
725
120
Vanguard Developed Europe ETF
Hong Kong
3101:HK
18
3
Total
1,343
223
Portfolio allocation
Portfolio allocation is more or less on track and I am happy that my picked stocks are now at a very small 4%.

Portfolio performance vs. plan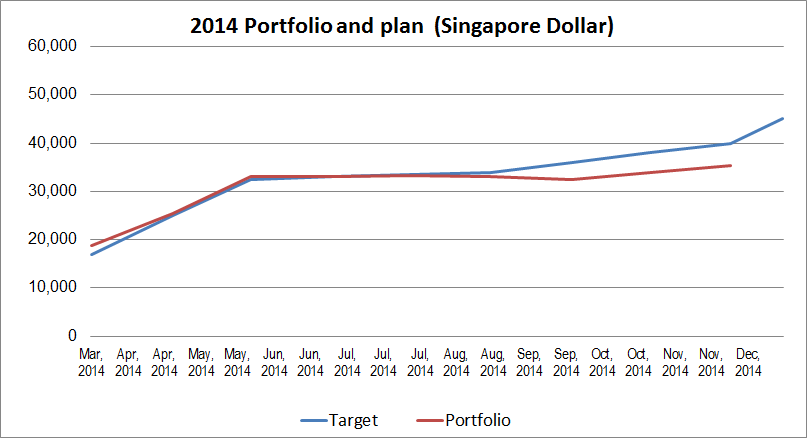 Portfolio performance is trailing the ambitious plan for this year quite a bit. I built up my cash holdings to have a larger emergency fund but will now probably finish 2014 over 40,000 SGD.
Bring it on, November!