In October I managed to exceed my yearly investment target and I received a new personal record amount of dividends. Read on for the details!
October saw some tough news as the Singaporean economy seems to be struggling quite a bit. One particularly worrying news item was the latest Monetary Policy Statement from MAS, from October 14. On the topic of Singapore's growth outlook the statement concludes:
"Overall, growth in the Singapore economy is projected to take a step-down in H2 2016 from the 2.0% recorded in H1, and full-year GDP growth is likely to come in at the lower end of the 1–2% forecast range. Growth is expected to be only slightly higher in 2017."
I feel a lot of evidence of the low growth all around me with people being laid off, a lot of discussion about downsizing and cost reduction seems to be going on everywhere. Needless to say, in a tough environment it is important to focus on the things we can control and stick to our plan.
On a personal level October was very unremarkable and I just kept trucking along executing my saving and investment plan.
Portfolio performance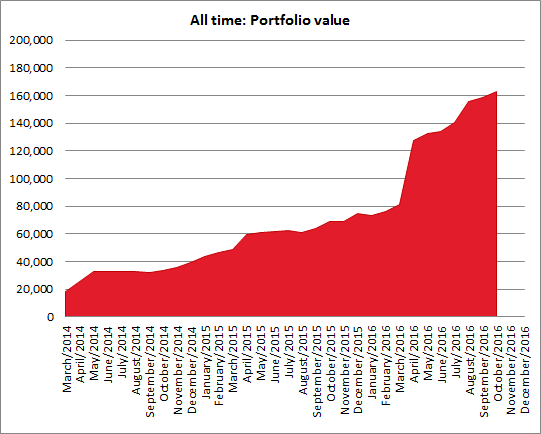 In October my portfolio increased by 2.8% or SGD 4,434 to SGD 162,970 (USD 117,150). This gain was made up of fresh investments of SGD 3,816 and gains of SGD 618.
Investments year to date vs. plan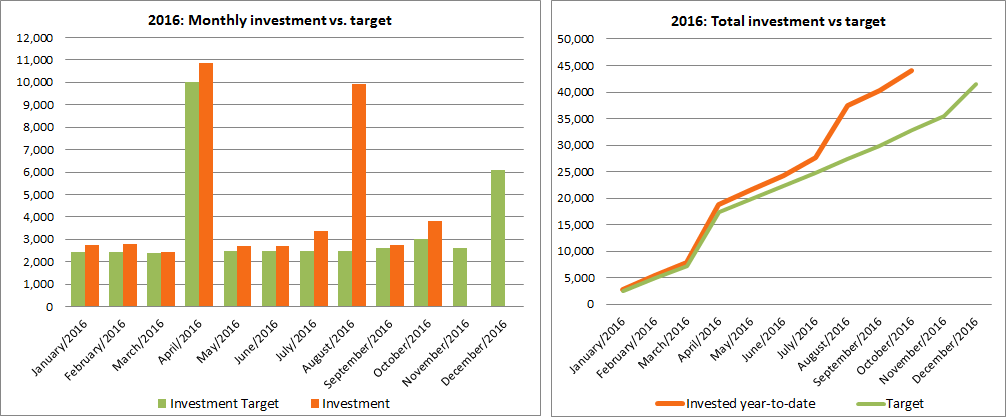 Dividends received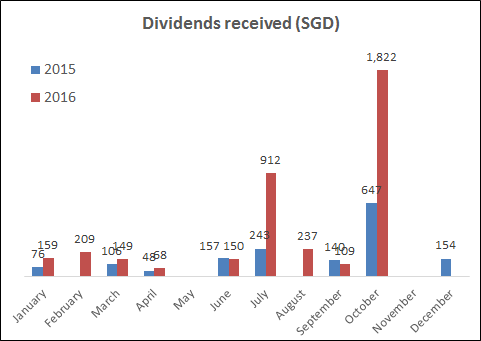 This was the highest dividend month for me so far. SGD 1,822 tax free dividends were credited to my account. For more experienced investors this is not a big amount, but for me it was definitely a big deal!
Outlook
I am more motivated than ever to save money and invest it to become financially independent in the future. In a tough economic climate I feel we become more conscious of the risks and it feels good to have investments as an additional safety net. What do you think?