As I was walking by an HSBC branch the other day I saw an advertising banner promoting taking a personal loan for a dream vacation. Are they serious?
This is the banner in question: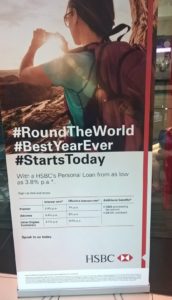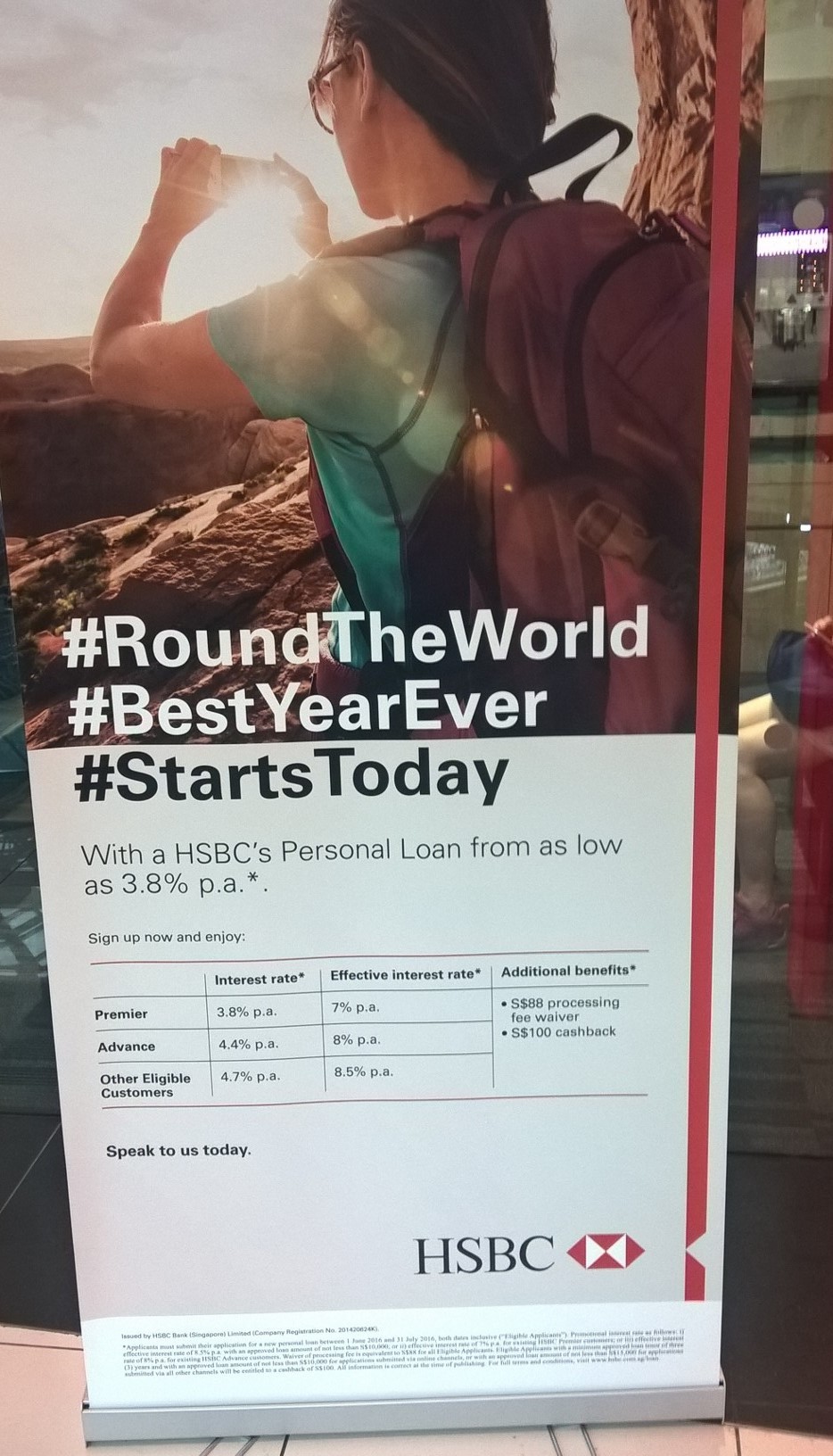 A young lady is pictured in the ad, taking a picture of some foreign landscape, adorned with the hashtags #roundtheworld, #bestyearever, #startstoday
The message is clear: let's just take a loan, quit our jobs and take a year off to travel around the world on credit. You only live once, right? I was half expecting a big #YOLO plastered on the ad as well.
Surely they must be kidding…? I ventured to the official HSBC Singapore website to learn more:
"Whether you are planning a learning adventure or an exotic holiday, bring your plans to life with HSBC's Personal Loan."
Let's take a close look: normal HSBC customers will be charged an effective interest rate of 8.5% per year for the loan.
A hypothetical scenario: Suzie wants out
Suzie is a bored 28 year old office worker, earning SGD 3,500 per month as assistant supply chain manager in a large and dull multinational company. One day she decides: I need to travel the world and fill that Instagram and Snapchat accounts with interesting things!
As she does not have enough money saved up she decides to take out a loan of SGD 14,000, because #roundtheworld, #bestyearever, #startstoday, right?
She borrows the SGD 14,000, travels half a year and then pays back the loan over 5 years with a monthly rate of SGD 288.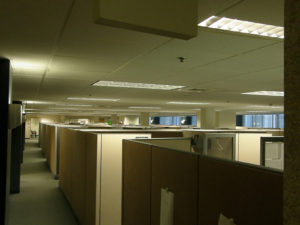 No more office drudgery #roundtheworld, #bestyearever, #startstoday
| | |
| --- | --- |
| Amount Suzie borrowed | Amount she has to pay back |
| SGD 14,000 | SGD 17,280 |
Suzie will therefore pay HSBC a whopping SGD 3,280 in interest. A good deal for HSBC but a very silly decision for Suzie.
What should Suzie do instead? Easy question: Save half her salary, travel in 8 months and pay in cash! Ideally she should also negotiate an unpaid sabbatical in combination with her paid leave entitlement with her employer, so that she does not have to face unemployment after her return.
HSBC – preying on the financially illiterate?
To most readers of this blog it should be pretty obvious why this ad is so unnerving:
Embarrassing attempt to target the so called "millennial generation"
Promotion of instant-gratification and spending borrowed money on consumption
Advocates taking a loan on a non-critical depreciating item (and at a high interest rate on top of it!)
As a (very small) HSBC shareholder I should be happy that the bank is trying to make money, but I cannot help wishing that they would behave a bit more grown up and financially responsible manner.
HSBC is one of the best banks around, with a reputation to hire the best people and a great strategy. Their logo is printed on most of the Hong Kong banknotes and their ads are normally fantastic and inspiring, for example this one: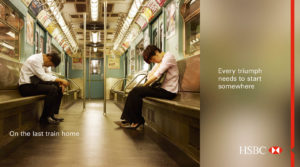 This makes the silly personal loan ad even more absurd. How is this supposed to fit the image the bank is trying to conjure?
So is a personal loan always bad?
First of all, a personal loan is not inherently good or bad, it is a financial tool that can make sense under certain circumstances, for example:
Financing higher education for which no other student loans are available (unlikely case)
Paying for unforeseen crises such as medical emergencies (in case of no adequate emergency fund)
Consolidating higher interest consumer debt (e.g. credit card debt
Come on HSBC, you are a better bank than that!
How about you? What do you think about the ad?