What an eventful year 2015 was! Now it is time to look back: did I achieve my goals for 2015?
December results
Let's start with a very brief review of December's portfolio performance: the value of my portfolio increased by SGD 5,686 or 8.2% to SGD 74,950. This gain was composed of SGD 6,209 in fresh investments which were offset by a paper loss of SGD 523.
Did I reach my goals?
At the beginning of 2015 I announced my goal to invest a total of SGD 31,400 into my portfolio in 2015, which at the time seemed like an ambitious plan. A year after I can confirm that I definitely exceeded my target and invested a total SGD 39,566 during the year.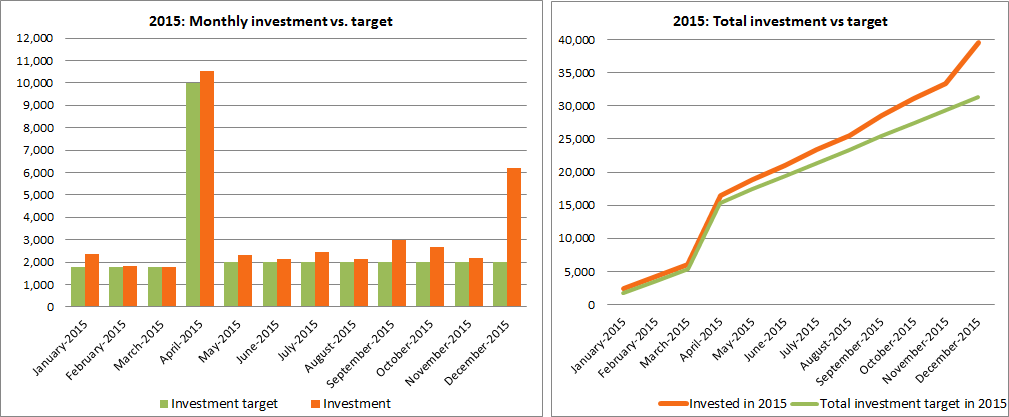 Overall portfolio performance for the full year of 2015:
Portfolio end of 2014: SGD 39,602
Portfolio end of 2015: SGD 74,950
This looks like a good increase, but it is driven by fresh investments, as the portfolio performance was quite lackluster:
Portfolio performance before dividends:

– SGD 4,218

Dividends received in 2015:

+ SGD 1,608

(reinvested)



Portfolio performance after dividends:

– SGD 2,610

Fresh investments: + SGD 37,958

(excluding reinvested dividends)
Looking at the full year my portfolio incurred a paper loss of SGD 2,610. This is not a great result and can be explained by the fact that my portfolio is very heavy weighted on Asian shares which had a challenging second half of the year.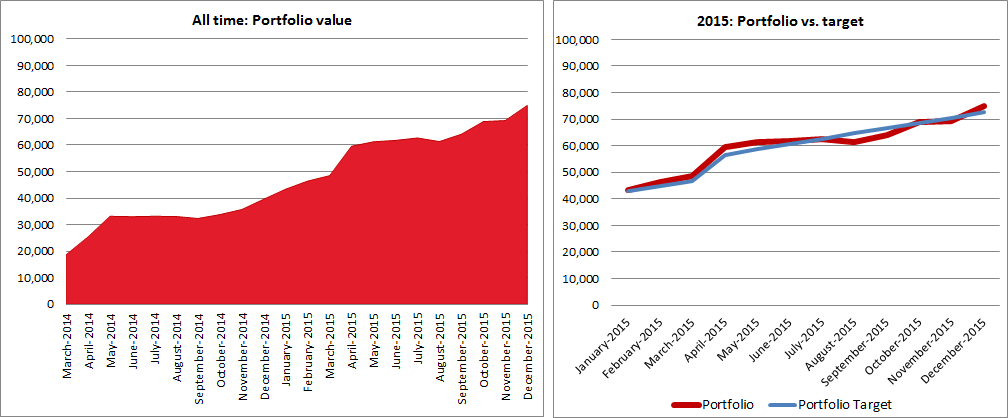 Dividends received
Who does not love to receive dividends? In 2015 a total of SGD 1,608 was paid out by my ETF holdings. The best thing about it is that these dividends are not taxed in Singapore.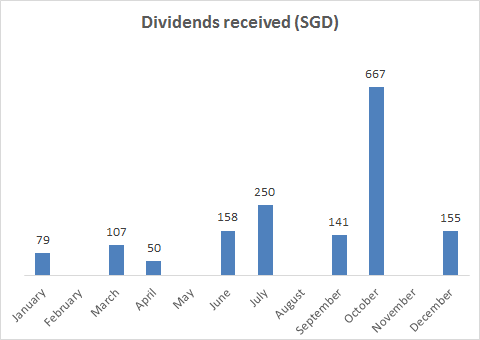 Portfolio allocation

Nothing too exciting to report here. I should probably buy some more bonds soon, but as stocks are so much cheaper than my average buying price I feel more like buying them to lower my cost basis.
Writing this blog
All in all I am quite happy to have kept up with blogging, churning out my boring and figure-laden monthly updates, but also some general investment posts about a wide range of topics, including the high fees of most unit trusts, a vampire hunt in my house or a comparison of ETFs tracking the Straits Times Index.
Writing this blog keeps me on track and often when I feel that nothing has happened I look back at my older entries and then I am motivated to keep on keeping on.
Conclusion: 2015 was a mixed year
While the performance of the Asian markets was not as great as hoped and my portfolio incurred a paper loss for the full year, I am still quite happy with the past year. I managed to stick to my plan and exceed my goals and will soon publish an update about the goals for the fresh and new 2016.
How did 2015 treat you?