Many of my friends are complaining this year: some got only tiny salary increases and for others their salaries even stayed flat. Gone are the days when companies in Singapore had to fiercely compete for good people and nowadays firms embark on cost cutting and optimization while cutting employee benefits.  The only solution: we need to give ourselves a raise.
First we have to clarify some of the concepts: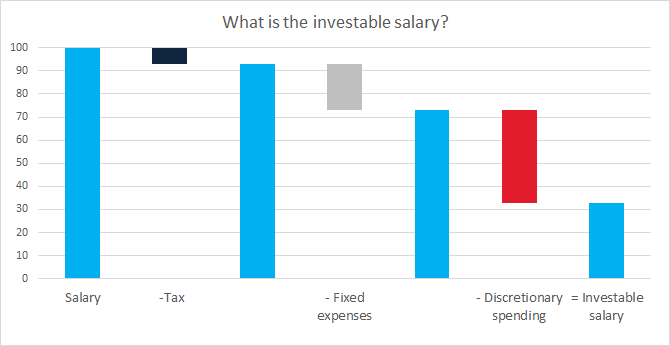 Our investable salary is the money that is leftover after tax, our fixed expenses such as rent or mobile phone plans and our discretionary spending. Discretionary spending is all the money we spend besides our fixed expenses, such as meals, vacations, shopping…
It is not just about increasing your salary
When looking to build wealth many people are obsessed with increasing their income. They work hard and as their careers and salaries improve their lifestyle changes as well. Suddenly getting a car  seems like a good idea, or we need an expensive Fitness First membership to distress after the hard day at work.
This lifestyle inflation is dangerous, as very quickly you will find yourself on the hedonic treadmill.
We need to focus on improving the investable salary!
The investable salary is the only part of your income that is productive so you need to focus on increasing it. Some people spend all their salary and their investable income is zero. Some people even make the mistake to go into consumer debt, making their investable income negative.
My personal situation
After more than seven years of full-time work I calculated where my expenses went and created the following nice graph: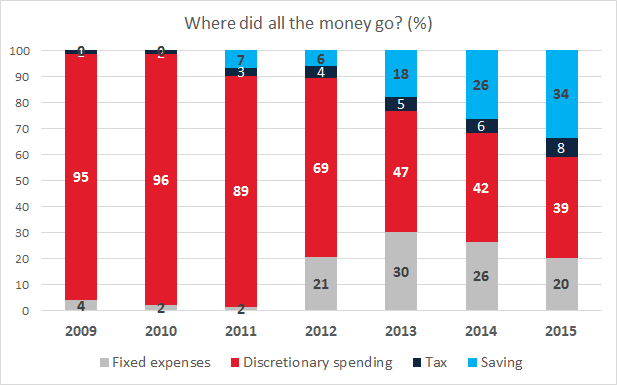 The painful truth is: The first three years I used all my salary for unproductive discretionary spending to buy all the toys and useless things I felt I needed in my life. Rather stupid! In 2012 I got my act together somewhat and started saving and investing.
In 2015 I finally saved about 34% of my pre-tax salary.
Now this looks a lot better and more responsible than it actually is. Let's look at the figures in absolute terms: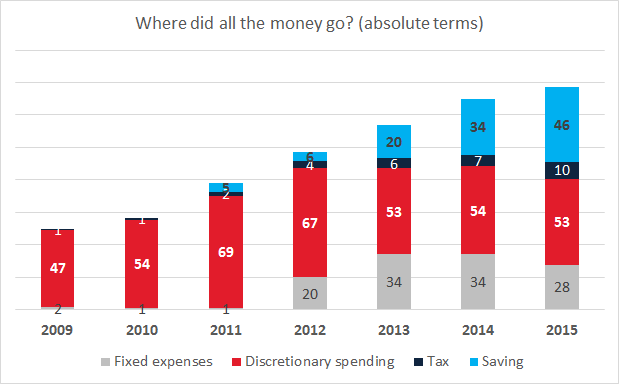 Between 2013-2015 my discretionary spending stayed the same and I added all my salary increases to savings, avoiding lifestyle inflation.
So how to give yourself a raise?
I created this small step-by-step guide
Step 2: Despair realizing how little of your salary you actually get to keep each month
Step 3: Optimize fixed expenses:

3.1: Do you still subscribe to cable TV? Cancel that and get the cheaper (SGD 14/month) Netflix if you must. Do you really need such an expensive phone plan?
3.2: Expensive gym memberships: Do you really use it? If no, cancel. If yes, can you find a cheaper option in a community center?
3.3: Do you have a car? Singapore's most beloved status symbol, but in most cases a bottomless money pit. Do you really need it? Freeing yourself of the car will pretty much immediately free up a lot of cash-flow towards your investable income. Ignore what other people say, invest this expense instead and retire 10 years earlier.
3.4: Any other subscriptions or monthly expenses you can cut?

Step 4: Reduce discretionary spending:


4.1: Track where your money is going each month. Meticulously note down each expense, there are free apps that can help.
4.2: Analyze results. Do you buy a lot of clothes? Eat out a lot? Any surprises?
4.3: Optimize: Set a budget in all categories and aim at a lower spending. Plan and budget all expenses.
4.4: Adopt some frugal habits. Explore cheaper alternatives!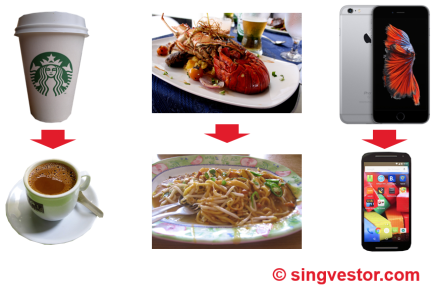 Making some easy adjustments to your fixed expenses and discretionary spending can often lead to a 10% increase in investable income.
Why wait for your employer to give you a raise when you can do it yourself?