As I am a fan of an index investing strategy and love a well-diversified portfolio exchange traded funds are the ideal solution.
What is an exchange traded fund (ETF)?
An ETF contains various assets such as stocks, bonds or commodities, and is traded on a stock exchange very much the same as a normal share. Investors can sell and buy the share during the trading day of the stock exchange.
Most of the ETFs are passively managed, which means they track an index, such as stock index or a bond index. This makes them quite attractive, as an investor who wishes to diversify can buy a part of the whole index instead of having to purchase individual shares. ETFs which track an index are also called index funds.
Most ETFs are index funds, but recently there have been some actively managed ETFs popping up. Actively managed ETFs are traded the same way as their passively managed counterparts, but they consist of various assets which are picked by a fund manager with certain investment objective.
In this blog I will not deal with actively managed ETFs, but stick to the traditional (and in my opinion more attractive) traditional index funds. As commodities are a field with many traps and difficulties (again my opinion) I will focus on two main classes:
Bond index ETFs and Stock Index ETFs
Did you do your asset allocation test as outlined in the first article of this blog "How to get started investing in Singapore?"?
A good investment strategy starts with a solid asset allocation. In my case it looks like this: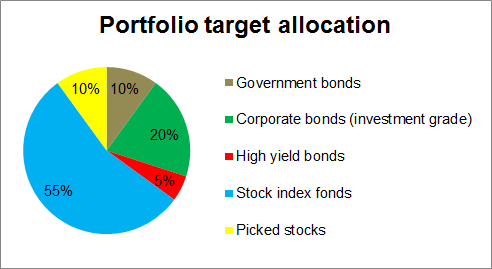 If you head over to my portfolio you will see that I am an absolute idiot when it comes to picking stocks and that I am still in transition to my target asset allocation. Thankfully I am not alone in this predicament, as history has shown that nobody ever managed to outperform the market index for ten years or more.
Thus I decided to go the easy route: just buy the market as a whole in low cost index fund. Some index funds for stocks and some index funds for bonds and I should be set.
As I am weak and picking stocks is too much fun I decided to give myself some play money and allow 10% of my portfolio to go into picked stocks. Not a financially sound decision, but surely a fun one.
The same is true for high yield bonds, which I allow to make up 5% of my portfolio as an experiment.
Exchange traded funds available in Singapore
Singaporean investors have a growing range of ETFs to choose from on our home stock exchange SGX.
There are stock index funds and bond index funds available tracking various indexes.
Selected index funds available in Singapore
Last updated on May 19, 2014
Name of the exchangetraded fund
Class
Currency
SGX ticker
Bloomberg ticker
Expense Ratio (%)
What are you buying?
Distri-butions?
Website
SPDR® Straits Times ETF
Equity
SGD
ES3
STTF:SP
0.30
The Straits Times Index
twice per year
link
iShares Barclays Asia Local Currency 1-3 Year Bond Index ETF
Bonds
SGD / USD
SGD=QL0
USD=O9Q
SGD=ASHYS:SP
USD=ASHYS:SP
0.35
The Barclays Asia Local Currency short duration bond index, which in USD terms tracks corporate short term local currency bonds in Asia Pacific.
4 times per year
link
iShares Barclays USD Asia High Yield Bond Index ETF
Junk Bonds
SGD / USD
SGD=QL3
USD=O9P
SGD=ASHYS:SP
USD=AHYG:SP
0.50
The Barclays Asia USD High Yield Diversified Credit Index of below investment grade bonds (Junk Bonds)
4 times per year
link
iShares J.P. Morgan USD Asia Credit Bond Index ETF
Bonds
SGD / USD
SGD=QL2
USD=N6M
SGD=AJACS:SP
USD=AJAC:SP
0.30
The J.P. Morgan Asia Credit Index which tracks a range of dollar denominated corporate and government debts issued in Asia (excluding Japan)
4 times per year
link
Nikko AM Singapore STI ETF
Equity
SGD
G3B
DBSSTI:SP
0.20
The Straits Times Index
twice per year
link
ABF Singapore Bond Index Fund
Bonds
SGD
A35
SBIF:SP
0.15
High-quality bonds issued by the Singapore government and government-linked bodies
Once per year
link
CIMB FTSE ASEAN 40
Equity
SGD / USD
SGD=QS0
USD=M62
SGD=ASEANS:SP
USD=ASEAN:SP
0.65
Top 40 securities (by market capitalization) in Singapore,
Malaysia, Indonesia, Thailand & Philippines.
Once per year
link
CIMB S&P Ethical Asia Pacific Dividend ETF
Equity
SGD / USD
SGD=QR9
USD=P5P
SGD=CIMBDVDS:SP
USD=CIMBDVD:SP
0.65
S&P Ethical Pan Asia Select Dividend Opportunities Index of the 40 highest dividend yielding stocks with <5% revenue from alcohol, gaming, pork & tobacco.
Once per year
link
How to read this table:
Name: This is the name of the index fond given to it by the managing company.
Class: Either bonds (fixed income) or equity (stocks).
SGX ticker: the symbol it is using on our Singapore Stock Exchange (SGX). You will need this to buy the stock via your broker.
Bloomberg ticker: Included here for your convenience in case you would like to get information about the fund on bloomberg.com
Distributions: some index funds pay dividends in certain intervals. This dividend is then credited in cash to your settlement account. Other index funds automatically re-invest those dividends for you.
Expense ratio: this is the cost you are paying the index fund company for managing the fund. This is often abbreviated as TER (total expense ratio). Expense ratio matters! For example investing SGD 10,000 in a fund with 0.38% will cost you SGD 38 per year. Investing the same in a fund with a expense ratio of 0.8% would mean paying SGD 80. Obviously this expense ratio is built into the performance of the fund, so you are indirectly and not directly charged for it.
This table is only a selection, you can find all ETFs traded in Singapore by using the official ETF screener on SGX (http://203.127.29.74/wps/portal/sgxweb/home/products/securities/etfs/etf_screener)
Read on: