Who would have guessed that October would turn out to be the best month for my small portfolio this year?
Portfolio performance
In my last monthly update I talked about the bad mood in the Asian markets and I was rather pessimistic about the end of the year. In October Mr. Market surprised me once again and the value of my portfolio increased by 7.4% or SGD 4,756 to SGD 68,852.
This gain consisted of SGD 2,095 in capital gains and SGD 2,661 of fresh investments.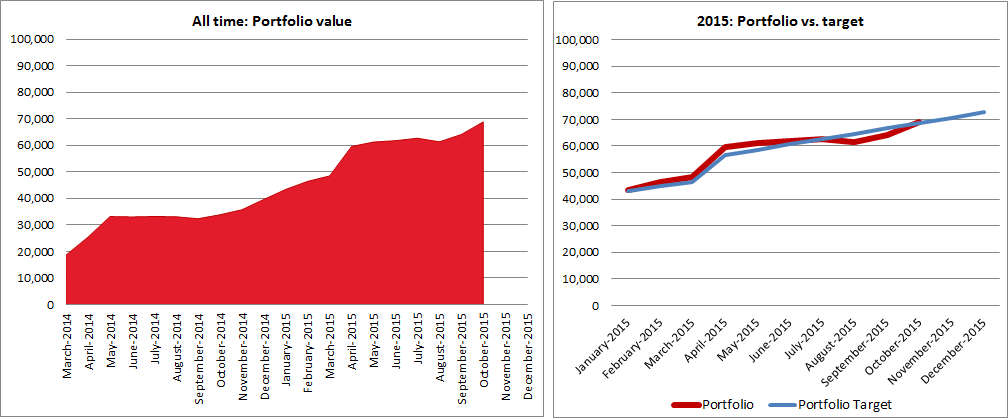 Overall my investment plan is going nicely. I am very close to my investment target for the whole year already in October and there is a good chance that I will surpass it.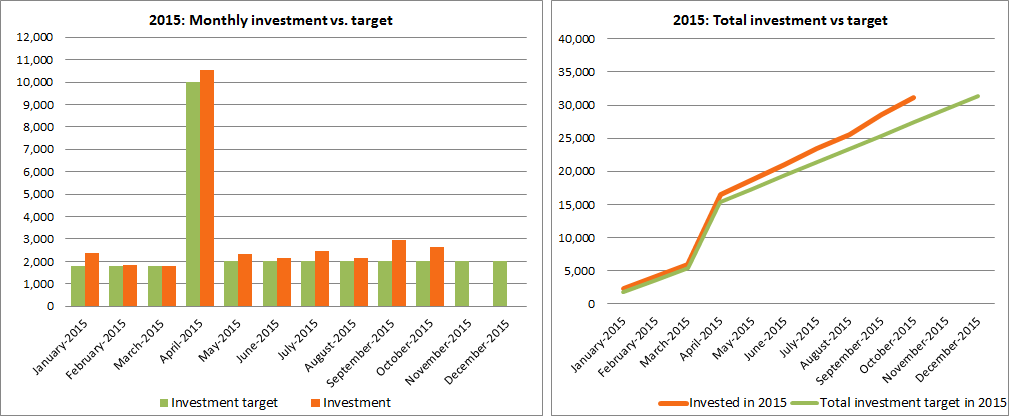 I was at home the whole month in October, except a one-week business trip to Germany. This helped keeping expenses low, even though I booked a nice trip for the Christmas holidays.
Portfolio allocation

Nothing exciting to report, but I will probably need to buy a few saving bonds to beef up the bond component of the portfolio.
Dividends received
As always October was a great month with regards to dividends received and I received SGD 651 this month. This is a nice increase from the SGD 223 I received in October last year!
ETF
Exchange
Ticker
Shares held
Dividends received in October
 
 
 
 
HKD
SGD
Vanguard Developed Europe ETF
Hong Kong
3101:HK
1,100
88
15.8
Vanguard FTSE Asia Ex Japan Index ETF
Hong Kong
2805:HK
3,000
690
124.2
Vanguard FTSE Asia ex Japan High Dividend Yield Index ETF
Hong Kong
3085:HK
9,200
2,856
514.1
Total
654.1
Dividends were all reinvested and as part of my SGD 2,661 investment in October.
Outlook:
Overall it seems as if my goals at the beginning of the year were not ambitious enough and I will meet them easily. This is quite encouraging to see, especially since I failed my 2014 goal.
How have you been doing? Were the markets kind to you in October?