November is always a bit of a dull month, but I stuck to my plans, invested and saved as usual. Read on for the details!
Now that I am back in Europe I got reminded of the misery that is November in Europe. It rained, rained and rained and then it rained some more. It rained when I got up, it rained when I walked to my car or did my shopping, it rained at night, it rained during the weekend, it rained every time I looked out the window or went to the office canteen for lunch. It rained a lot.
At some point I fled the rain to spend a week on some Spanish island, which was nice.
Portfolio update
In November my portfolio increased by 5.2% or SGD 4,294 to SGD 245,283 (=USD 182,100).
This gain was made up of SGD 6,235 of fresh investments which were offset by a decline in portfolio value by SGD 1,941.

Investment vs. plan
In November I invested SGD 6,235 which was more than the plan (SGD 5,700).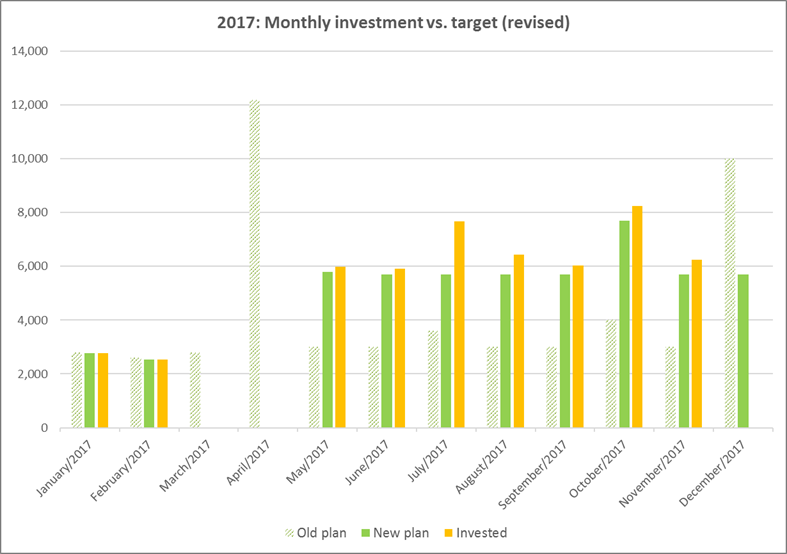 Dividends
SGD 108 were received from my small holding of HSBC stocks. Year-to-date my holdings paid out SGD 7,230. Not bad! It is quite motivating to see this number. Maybe there is life after work? A man can dream.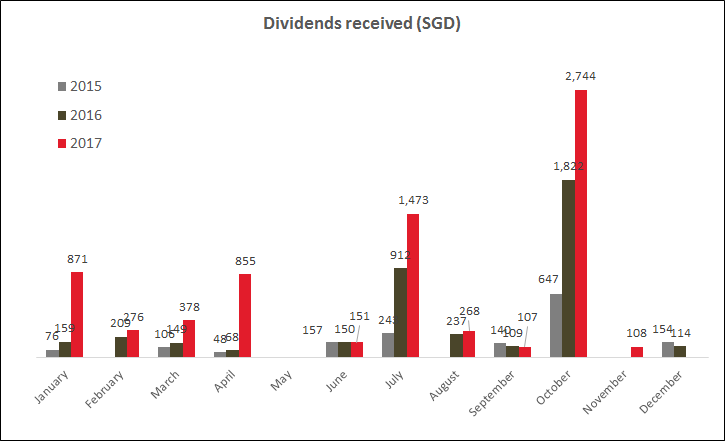 Portfolio allocation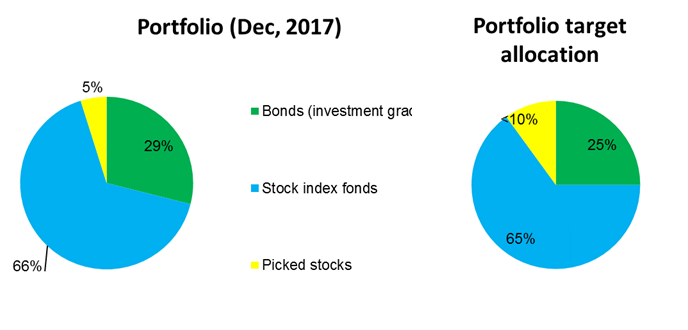 The portfolio allocation is normal and boring as it should be. I feel like adding a small (~3%-5%) cash component to it, to add some stability for a potential downturn. In theory this is not the right thing to do, but might make me feel better.
Outlook
Stocks have increase so much after I wrote the "The market is dropping what should you do" post in January 2016. At that time I felt like stocks were on sale. Right now I feel the opposite. Colleagues in the office are talking about flipping houses, crypto is in a bubble, a lot of people talking about investing again… In theory the best is to stick with the asset allocation and never change it. I will try my best to stay the course. Having said that: Is this the time to be fearful, as everyone is greedy?